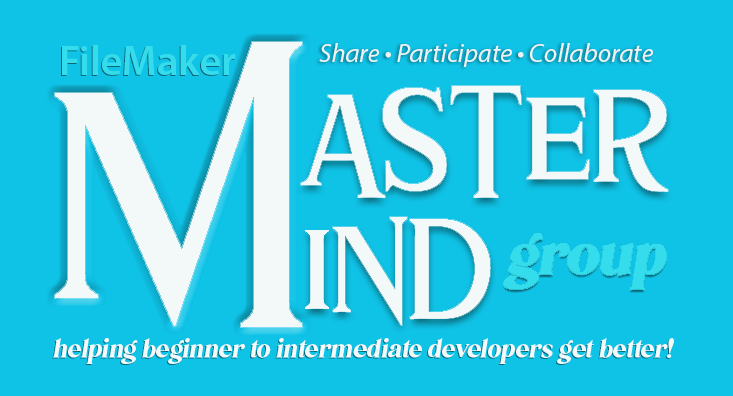 About the FileMaker Mastermind Group (2 minutes)
Managing the Relationship Graph – August 11
Managing the Relationship Graph (1 minute intro)
Learning FileMaker well enough to, legitimately, call yourself an expert is hard, very hard. It takes years and years of working with it, of trying and failing and then doing it again.  The only way to learn is by trial & error.
I think it took around 5,000 hours of working with FileMaker™ before I thought I really knew what I was doing. I was wrong; it took at least another 5,000 hours after that. I've now spent more than 70,000 hours working with it and I'm still learning, all the time.

Click on the Meetup logo above to go to our group
Videos on this page are answers to questions sent in by group members. These questions will be discussed in detail in actual meetings and are being posted here for those who are interested but don't want to sign up.
This group is for FileMaker enthusiasts to help beginner to intermediate FileMaker developers with areas that they are having trouble with or want to know more about. Virtual meetings, using Zoom, will include a presentation, made by an expert level member, or invited guest, followed by Q&A and a brainstorming session to help with specific problems. Meetings will all be held virtually with one meeting for Europe and North America and the other for developers in Australia and New Zealand. Members are encouraged to write in and suggest topics of interest to them.
The videos below cover the content discussed and not the entire meeting.  The link below each section is to any files that are needed.
Data Normalization (3 videos)
Click to download the sample data files.
Related Value Lists (2 videos)
Download a sample data file from Brian Dunning's web site.
Need a FileMaker Custom Function? Go here.